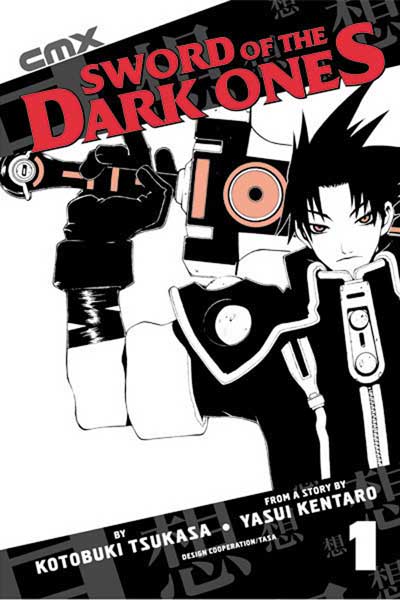 Sword of The Dark Ones is a short but action-packed 3 volume manga published by CMX.
Leroy Schwartz and his sword Ragnarok are two fierce mercenaries roaming the Asgard Empire on a mission. Leroy is an S Ranked mercenary, nicknamed "Leroy Lightening-Speed" and "Black Lightening" for his incredible skills back when he was in the Mercenary Guild. But for such a tough guy he's real softy when it comes down to protecting people in need...and women. The legendary sword, Ragnarok, is Leroy's most trusted companion. Completely opposite from Leroy, Ragnarok is level-headed, logical and above all, loyal to his master. While on a job, the pair are ambushed by a group of Dark Ones. After defeating them, the two become suspicious of the caravan they've been escorting when they find out that it's full of girls heading towards the local bordello, The Scarlet Lady. Their suspicions are confirmed when an old acquaintance of theirs asks them to do a job involving the very same brothel! Now on a mission the rescue a young girl, the two are thrown into something much bigger than they had anticipated and might be able to handle...
Not gonna lie, for something this short, this series was pretty awesome. The entire three volumes are pretty mature as content goes but also packed with plenty of action and characters to keep things interesting. The cover art for this series may seem rather plain but at a second glance, looks fresh and inviting. But what's really appealing about the art is that it's very geometric and sharp. The illustrator, Kotobuki Tsukasa, keeps that style constant and crisp, complementing the story in an interesting way. The plot is based on a story by Yasui Kentaro. It's written well and pulls in the reader by starting at a middle point. Because this manga is so short, not too much time is spent explaining the characters, which means that you get to understand them bit by bit as you read on. Therefore, it's a grand combination of story, fighting, art, monsters and even a bit of loli. These are three books I am proud to have on my shelf. It doesn't seem to be the most well known of manga titles but it's well worth a read. Recommended if you want to start something new and epic without committing yourself to some ridiculous amount of volumes. To those of you that love all things adult and fighter, go ahead and pick yourselves up a copy of this.
Thanks again for reading! This update is a bit late (1:04am the next day...) but I'll still be posting for today too. Let me know what you think and support!